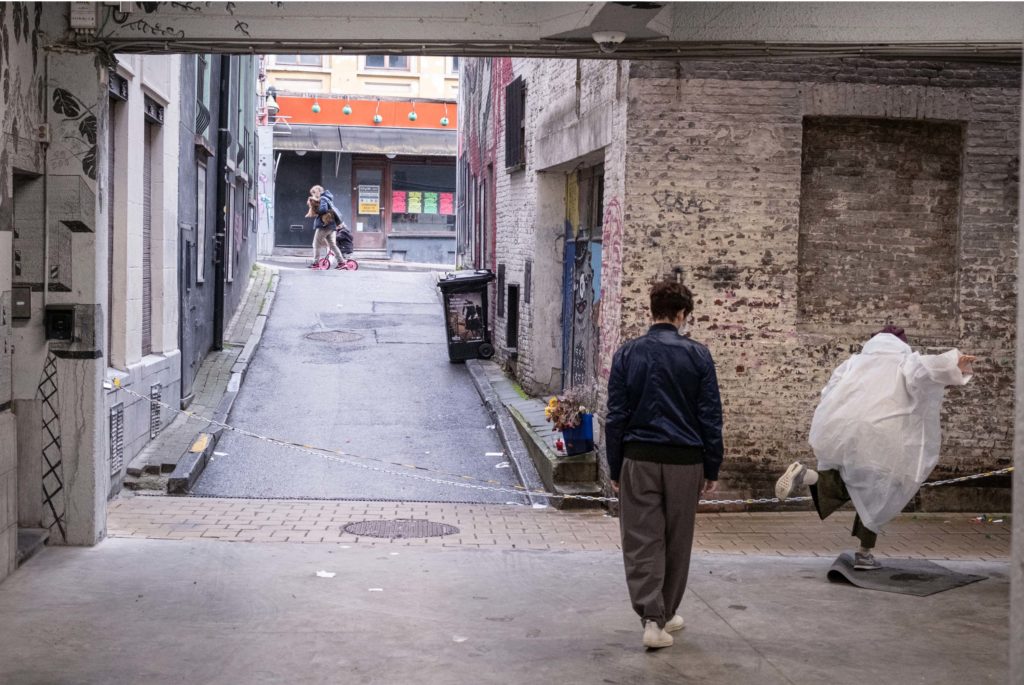 First, observe your thoughts. Then imagine that your body would follow all these mental impulses. What would happen?
Join an intriguing walk through the city. Through headphones, you listen to the inner world of the person following you. You hear thoughts about themselves, about their place in the world, about the world and about humanity. Silences and spontaneous associations alternate in an ongoing dialogue between the body's impulse and its restless mind. The speed of our minds and the slowness of our bodies causes confusion, a state of restlessness, which inspires Hermans to develop a language of movement in which fiction meets reality. By setting out together, we discover our own thinking tendencies and a shared sense of togetherness emerges. Or are we just lonely individuals?
In a deluded state of mind, an intimate performance in public space, Liesbet Hermans and her performers explore the relationship between our bodies and our minds. According to her, we have similar thought patterns. How much impact do they have on our lives? And what would happen if we give these thoughts the attention they demand?
Credits
Concept en creation: Liesbet Hermans
Performance: Marcia Liu, Elie Tass, Gustav Koenigs
Artistic advice: Benjamin Vandewalle, Gitte Hendrikx
Production: [post]human
Residencies: Viernulvier (Ghent, BE), Post x (Merelbeke, BE), C-takt (Limburg, BE), Le Bamp (Brussel, BE), Les ballets c de la b (Gent, BE)

With the support of the Flemisch Government, Sabam and C-takt
Pictures: Kurt van der Elst