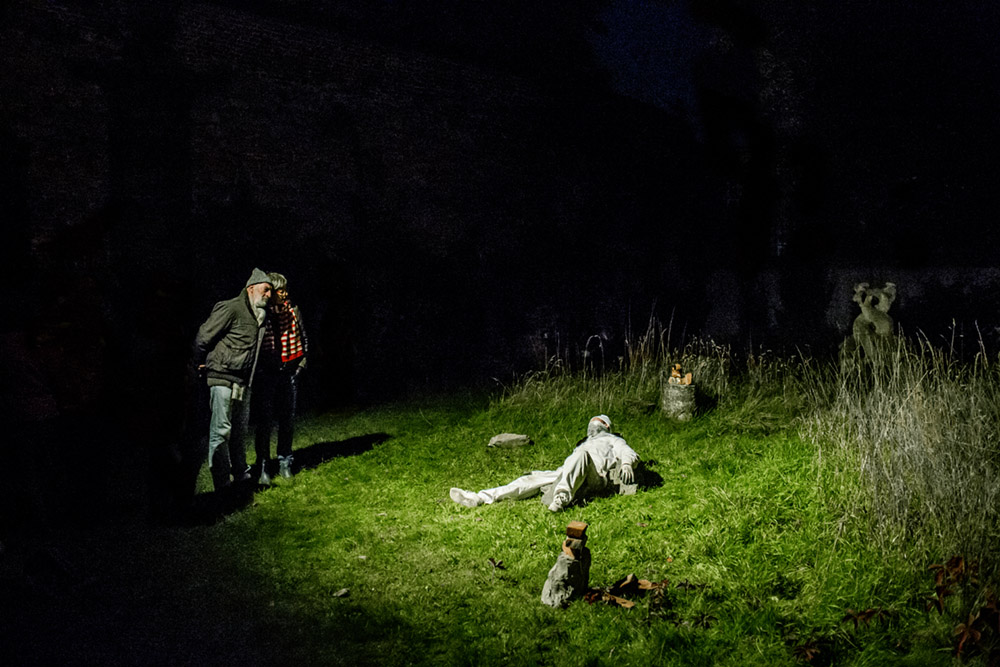 Mute is an artfestival in silence. It's an intuitive and experimental workplace for performances and improvisations without sound. Research and presentation melt together to form a confrontation between artist, public and location.
Mute is a living landscape, as the boundaries between artist and audience fade, seemingly banal and day to day things come into clearer view. Mute takes place at the crossroads between theater performance, museum and public space. It's a collective experience  that allows simplicity to speak. The attention is focussed on experiencing the moment. An 'in between' where we can meet one another with or without (mouth)mask.
Credits
Concept en curator: Liesbet Hermans
Artistic advice and dramaturgy: Elke van Campenhout / The monastery
Production: [post]human, Lut de Naeyer, Carine de Wilde
Performers edition 1: Aifoon vzw, Michel Yang, Dirk Hendrikx, Annemie Pierlé, Marta Kosieradzka & Eva Campos Suarez, Eram en Celestes De Vlam, Emilie De Vlam, David Troch, Cie Bud Blumenthal, Mirte Bogaert, Evelyn Cammaert, Sibran Sampers, Rachel Porter (UK) , Lore Schuermans, Two Envelopes, Lize Pede, Larissa Viaene, Arvid Viaene, Mahiwodi, Klaas de Roo & Gwendoline Van Jole, Inez Verhille, Alica Minarova (CZ)
Performers edition 2: Charlotte Vanden Eynde, Naïma Ferré / Isabelle Schad Good work productions (DE), Alice van der wielen & Anna Heuer Hansen, Transitscape, Nicolas Hermansen (SP) , Natacha Nicora, Trag (DE), Klaas Freek Devos,  Jozefien Muylle, Maya Wuytack, Talk Gent, Nona Demey Gallagher & Mitch Van Landeghem, Rachel Porter (UK), Soepbar Sordo, Sara Fellman (NO), Bastiaan Vandendriessche en Jotka Bauwens, Sabine Molenaar
Pictures: Franky Verdickt (foto 1), Kurt Van der Elst (foto 2,3,4)
Performers on the pictures: Michel Yang (foto 1), Alice van der Wielen en Anna Heuer Hansen (foto 2), Naïma Ferré / Isabelle Schad Good work productions (foto 3) Sara Fellman (foto 4)
With many thanks to Klaas de Roo, Jan Vandemeulebroeke, Carine de Wilde, Stefano De Notarpietro, Ludo Hermans, Marita Vanaken en volunteers.
With the support of the Flemish Government and the city of Ghent